Marcellus Schiffer. Drawings
The artistic bequest of Marcellus Schiffer includes manuscripts of his books of song lyrics for the cabaret shows by Mischa Spoliansky and Friedrich Hollaender and numerous song texts, sketches and scene texts for the cabaret of the 1920s. For Paul Hindemith, Schiffer wrote the libretto for his opera Neues vom Tage, which has been preserved in the archive. Numerous draft manuscripts for novels and stories have also been passed down. The archive is heavily intertwined with that of his wife, diseuse Margo Lion, whose artistic legacy is also part of the joint Schiffer-Lion archive.
Marcellus Schiffer was not just a song lyric writer but also a book illustrator and painter. The subject for his drawings and graphics that have survived was often his wife Margeurite, later Margo. The drawings, some of which are coloured, include illustrated sketches, sketch books, draft posters, linocuts and woodcuts.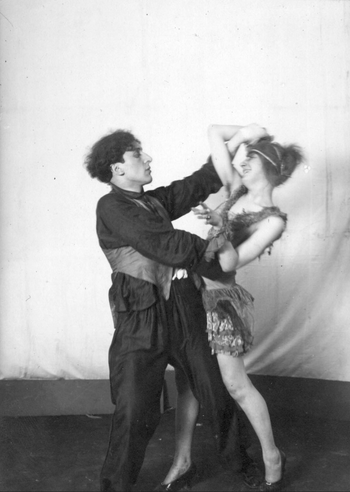 Marcellus Schiffer was born Otto Schiffer on 20 June 1892 in Berlin as the second son of Jewish timber merchants and became a student of Emil Orlik at the teaching institute of the Royal Prussian Museum of Applied Arts. In the summer of 1921, he met dancer Nina Hard "Ada" there, with whom he soon had a liaison. Through her, Schiffer met Marguerite Lion and Fränze Roloff at the end of 1921. He was closely connected with all three women, they are at the centre of his first semi-biographical novel Halb und Halb, which remained unpublished however. Fränze Roloff also played the title role in his first play Angst at the Albert-Theater Dresden. The press were unimpressed and it took Schiffer a long time to recover from this blow. He did, however, make another attempt with his Groteske Märchen und Gedichten at the Berliner Secession on Kurfürstendamm, which were read by his friend, Alexander Kardan. After visiting Trude Hesterberg at the Wilde Bühne in 1923, where he also introduced Margo Lion to her, Lion was hired and Schiffer wrote his first chanson lyrics for her, which Mischa Spoliansky set to music. Lion conquered the Wilde Bühne overnight.
Unfortunately the building burned down in October 1923 due to an overheated ventilator. Schiffer continued to write song lyrics, for Wilhelm Bendow's Tü-Tü and Rosa Valetti's Rakete. He became one of the most important writers of song lyrics for the Brett'l cabaret. Composers Werner Richard Heymann, Friedrich Hollaender, Allan Gray, Mischa Spoliansky, Victor Heermann and Stefan Meisel set Schiffer's song lyrics to music.
In 1924, Schiffer was to work on a revue with Erik Charel but this did not prove to be viable. At the same time, he also began working closely with Friedrich Hollaender and together they created a new form of revue, a literary parody revue, as critic Herbert Ihering called it. In 1927, the two artists parted ways and Schiffer's children's revue Hans im Glück was a complete failure. After a brief collaboration with Hermann Haller at Admiralspalast, he began a very successful period as a song lyric writer for theatre director Ferdinand Bruckner alias Theodor Tagger. Successful cabaret revues such as Die fleißige Leserin and Es liegt in der Luft were exulted by elite critics. Mischa Spoliansky orchestrated the revue and Margo Lion, married to Schiffer since 1924, was the main attraction. Her duet partner for the revue song Wenn die beste Freundin… was Marlene Dietrich, who remained Margo Lion's life-long best friend off stage too. Further revues were also created for Rudolf Nelson.
In 1931, Hollaender opened his own cabaret, the Tingel-Tangel-Theater, the Hollaender-Schiffer team broke up once again and Schiffer went back to Mischa Spoliansky. The Alles Schwindel revue was staged at Theater am Kurfürstendamm. At the beginning of the 1930s, Marcellus Schiffer attempted to gain a foothold in the film business and wrote a number of treatments, some with Friedrich Hollaender. His biggest success however was a song text for the film Das Lied einer Nacht by Anatol Litval for Jan Kiepura. In 1932, he worked with Kurt Robitschek on the cabaret opera Rufen Sie Herrn Plim with Harald Paulsen in the title role.
On 24 August 1932, Marcellus Schiffer was found dead in his apartment, having probably committed suicide. His widow, Margo Lion, soon settled in Paris thereafter.
History of the holdings
The bequest of Marcellus Schiffer was donated by Margo Lion to the Archives of the Akademie der Künste; the partial bequest from Margo Lion was later added to by the family.